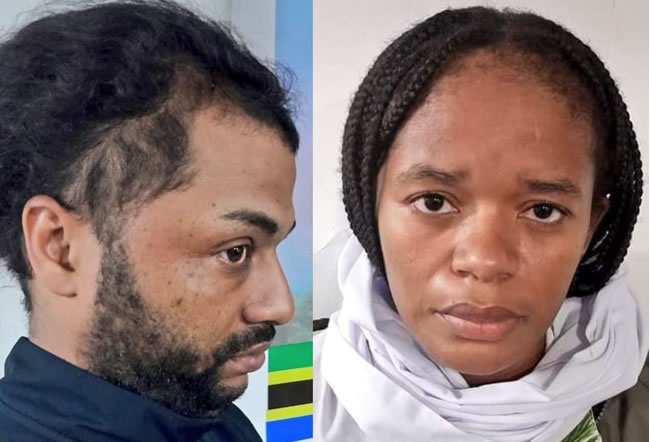 The 34th birthday party of Thabo Bester's "customary wife", Dr Nandipha Magudumana, allegedly turned into an ugly affair after the convicted Facebook rapist and murderer assaulted her in front of bemused guests.
The GBV details were revealed by Magudumana's friends who attended the disgraced medical doctor's shindig at her home in Hyde Park on September 4 last year.
The two women who witnessed the assault alleged that Bester had an argument with Magudumana over the seating arrangement of guests.
"Bester had anger issues and when he did not get what he wanted from Nandipha, he would resort to abuse. He was also beating Nandipha in front of her children. On the day he slapped Nandipha, it was based on the seating arrangements. He told Nandipha that he was in charge of her party, and he should be the one who should decide who sits where and how," they said.
However, said one of the guests, Magudumana protested, prompting Bester to slap her across the face several times and turn the tables upside down.
Another witness claimed they were all shocked by Bester's behaviour, especially since it was Magudumana's birthday.
"We … tried to intervene, but he told us that this was his house and we cannot tell him anything. When we wanted to leave, he told us that we are not going anywhere. We had to stay there against our will," said the witness.
The witness claimed that after the party, they took Magudumana to the police station in Sandton to file a complaint. "When we got to Sandton police station, the police told us that they couldn't help Nandipha and encouraged her to go back home to sort out issues with Bester," the witness said.
The party was also attended by celebrity doctor Sivuyile Madikana, Zimbabwean chef Donald Chipumha and photographer Ken Khutso. When contacted about the matter, Chipumha refused to comment as did Esihle Rawuzela of Mick Creations Décor, who had decorated the venue for the party. Attempts to solicit comments from Khutso and Madikana also drew a blank. Gauteng police spokesperson Dimakatso Nevhuhulwi said: "We are appealing to the complainant who alleged that they were refused access to SAPS services to report a formal complaint against the SAPS for further investigation on the following numbers: 0800 333 177 or 082 442 2000."
– Sundayworld
Follow Us on Twitter
Latest Gossip News via Email