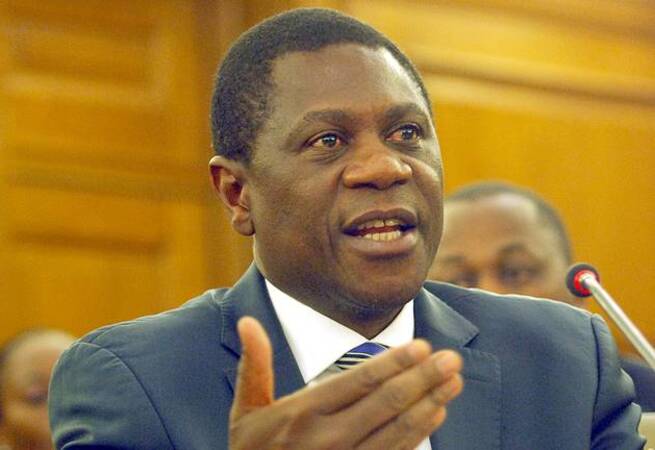 Deputy President Paul Mashatile's ex-girlfriend has alleged that he paid her R210 000 to silence her after his adviser Keith Khoza "assaulted" her and "damaged" her posh vehicle in a gender-based violence incident at the home of the governing party's second-in-command last year.
The explosive tidbits are contained in an affidavit Nkosi deposed at the Sandton police station, where she opened a case of assault and malicious damage to property against Khoza last week.
In the statement, which we have seen, Nkosi said she was assaulted by Khoza at Mashatile's Joburg home on November 26 last year.
After beating her up, reads the statement, he took her car and drove around in it and brought it back with a damaged key.
"The complainant alleged that she went to Paul Mashatile's house when she was assaulted by Mr Mashatile's spokesperson and took her car and drove around with it and brought the car keys damaged (sic).
"Mr Mashatile paid her an amount of R210000 not to speak to the press about what happened and also got her a new phone and a different car as her car was taken to the garage to be fixed," read the statement.
The police statement is slightly different from what Nkosi told Sunday World in a candid interview with her at her luxury apartment in Sandton last month.
Speaking to Sunday World,
Nkosi said she enjoyed an extra-marital affair with Mashatile from 2014 behind the back of his wife, Manzi, who died of Covid-19-related complications in 2020.
She said on the day of the incident, she rocked up at Mashatile's Kelvin home unannounced after trying in vain to reach to him on his cellphone. She said when she arrived at the gate, Mashatile instructed Khoza and his bodyguards to bar her from getting into the yard. She said when she saw Humile Mjongile, Mashatile's new wife, in the house, she insisted on driving into the yard to investigate what she was doing in her significant other's pad.
She alleged that Khoza, who was egged on by Mashatile's bodyguards, slapped her several times. She said during the scuffle, Khoza damaged her luxury vehicle, a Porsche Cayenne.
Nkosi alleged that she phoned a well-known journalist and a minister, who are both known to Sunday World, to come and help her resolve the matter.
She said she also phoned the police, who arrived but did not arrest Khoza after they mollycoddled her to find an amicable solution to the problem.
Nkosi said Mashatile asked some his associates to take the vehicle to a Fourways dealership for repairs. He then hired her a courtesy vehicle.
She alleged that the dealership demanded R150000 before it would repair the car but Mashatile failed to pay it.
Khoza said he was unable to comment on the case because it was being handled by his legal team.
"But there are cameras in that house and there were about 20 witnesses who were there who would testify that I did not assault her as she alleges," he said.
Khoza said he did not understand why Nkosi was waging a personal vendetta against him because he did not know her that well.
"Yes, I have met her once but as to why she is doing this to me, I really don't know. I can tell you that she did not even see Humile on that day and she did not even see the deputy president when she was there," he said.
Khoza said he couldn't rule out the possibility that there were people backing Nkosi's campaign to tarnish his and Mashatile's reputation.
"You have a person who is not working, but drives or walks around with bodyguards, how does she afford that? But we don't want to speculate on things that we don't have evidence of" he said.
Mashatile could not be reached for comment.
– SundayWorld
Follow Us on Twitter
Latest Gossip News via Email