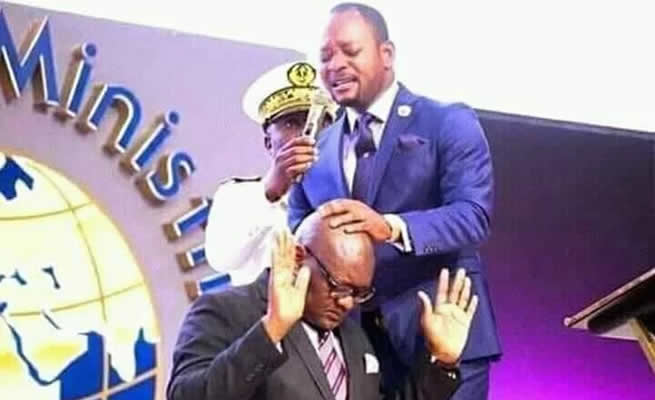 The ANC Gauteng provincial executive committee (PEC) has decided to recall premier David Makhura. The decision was taken at a meeting on Friday.
The PEC mandated education MEC Panyaza Lesufi in his capacity as provincial chair and provincial secretary TK Nciza to inform Makhura of the decision.
Their meeting with Makhura is expected to take place today before he leaves on a two-week trip overseas. Lesufi will act as premier in Makhura's absence.
President Cyril Ramaphosa yesterday said he was aware of the PEC "discussions" on Makhura. "The discussion still needs to be taken … to the NWC [national working committee]. That's the process that we have in the ANC," he said.
Ramaphosa said the removal of a premier should be done through a fully fledged democratic consultative process.
"I will be waiting together with other officials for a report on what has transpired," the president said.
He said there was a process for provinces that wanted to change or remove anyone from office.
"They come and give us the reasons … explain everything in full, table every argument and then we mull over [it] and a decision is then taken."
Three independent PEC insiders confirmed the decision, saying that after informing Makhura the party would send three names, including that of Lesufi, to the national leadership as nominations for the top job.
"We said it must be immediately … We will just have to conclude our own processes of choosing a premier and then he will go. Remember we are required to nominate three names and submit them to the NEC," one Gauteng leader said.
"We haven't had that discussion in terms of who it [the premier] must be. I don't say we have a problem with Panyaza [Lesufi] but we are still required to submit those three names. We said that process should happen as soon as possible."
According to Gauteng leaders, the PEC wants Makhura to leave soon so that the focus could be on the road to the national conference and general elections.
"The rationale is that we have started the process of going to conference and we don't want to cloud ourselves with issues of premiership when we are busy running with BGMs [branch general meetings]," he said.
"We just want to close this chapter and move forward."
Makhura, an ally of both Lesufi and Ramaphosa, was said to have already indicated he was not against handing the reins to Lesufi.
"Makhura himself never had an issue with going. It was just an issue of when. So it's only yesterday that we took that decision that it must be immediate. Makhura must be briefed first. You don't want to speak about it publicly before engaging with him," the-PEC member said.
Lesufi declined to comment, referring enquiries to ANC provincial spokesperson Lesego Makhubela, who could
not be drawn on the matter. He said the party would release a statement tomorrow on its discussions, including the state of the organisation and "how to strengthen and reinforce it".
The Sunday Times last month reported there was a strong push for Makhura to be replaced by Lesufi ahead of the campaign for the 2024 elections and Ramaphosa was being lobbied to give Makhura a job in his cabinet.
It now appears the PEC has decided to not wait for the president to decide but to charge ahead with replacing Makhura.
Another insider, confirming the decision on Makhura, said it was not necessarily expected to be immediate but should be sealed by the end of this month.
"Immediate effect is misrepresenting … once you say immediately it means you are fighting him," the insider said.
"There were no issues of hostility … we say that process will take about a month so by month end we will have a new premier," he said.
An insider sympathetic to Makhura said the decision for him to leave was surprising.
It's really sad what is happening because we really said he would be allowed to finish his term," the leader said.
"There was a meeting with him which was reported to the PEC. They will now go back to him to report on our discussions and then they will come back to us to say they have agreed on a date."
-SundayTimes
Follow Us on Twitter
Latest Gossip News via Email