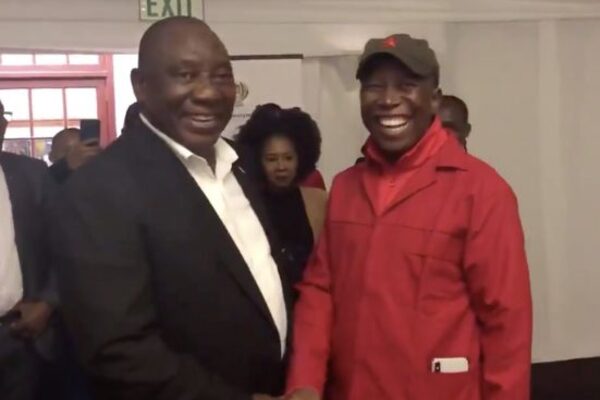 EFF leader Julius Malema has opened the door to a coalition government with the ANC in 2024 but would prefer an ANC led by Paul Mashatile.
In a wide-ranging interview with News24, Malema said they expect to enter a coalition agreement with the ANC, as opposed to the DA, following the upcoming national elections where no party is tipped to receive an outright majority to constitute a government.
"We are being forced to choose the better evil," he said of a scenario where the EFF enters a power-sharing agreement with the ANC at the national government after the next elections.
Malema ruled out working with the DA to force out the ANC from office on the back of the official opposition.
He said:
The ANC in 2024 needs a radical leftist coalition (partner) that will force its hand and say if you don't push this direction, you will likely get John Steenhuisen as president, the same way you have these mayors in Johannesburg, Ekurhuleni, and Tshwane.
Malema emphasised his opposition to Ramaphosa despite acknowledging their cordial relationship at the onset of the latter's presidency.
"Cyril has done very bad for black people. He hates us," the EFF leader said.
Malema said they were working earnestly to remove Ramaphosa as president for, among many reasons, the Phala Phala scandal, where he is accused of money laundering, among other accusations, related to a theft of foreign currency on his private farm in Limpopo.
"He should go. He should have left. ANC members must decide," Malema said.
While Malema initially said during the interview that he does not care who leads the ANC, he later said he would prefer the ANC to be led by the current treasurer general.
He said:
If you give me ballot papers, here is Cyril and here is Paul, I will vote for Paul.
Malema further noted: "I think he (Mashatile) can make a very good leader in his own right. He can be a better leader than Cyril Ramaphosa."
Mashatile is currently one of six party leaders who are expected to contest the ANC deputy presidency at the party's elective conference in December.
Some ANC leaders have thrown his name as a possible contender to Ramaphosa alongside former health minister Zweli Mkhize.
Nominations for ANC leadership open in September.
Malema said while they projected exponential growth for the EFF to around "20-25%" in the 2024 polls, they know that they will have to work with the ANC first before unseating it from office.
For as long as you don't have numbers, you will be forced to go around kissing different frogs to arrive where you want to go," he said.
"Our existence is to remove the ANC in power because it's a tool of white monopoly capital. It's not a contradiction. That's the strategic objective, but tactically, in terms of a 2024 coalition, you better force the ANC's hand to adopt your radical programme of action because you will not have numbers," he said.
But he clarified that, ultimately, he believed that the EFF could "use the ANC to destroy itself".
Malema said in the context of their coalition agreement, whoever leads the ANC does not matter. What matters, he said, is whether the ANC leader will accede to their plan of action.
"The ANC as an organisation is rotten, and it has nothing to do with individual relationships because they cannot do anything in such a pool of rotten. Even if you say Kgalema [Motlanthe] must take it over, he will never get it right."
– N24
Follow Us on Twitter
Latest Gossip News via Email