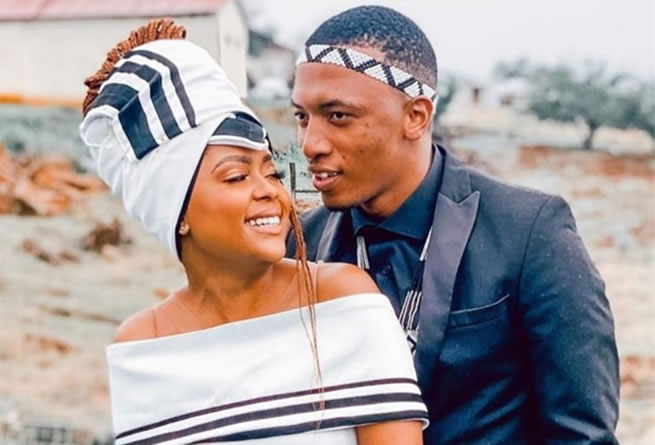 Dr. Ziphozenkosi "Zee" Mthembu and gospel star Dumi Mkokstad have recently celebrated the arrival of their newborn baby. The couple, who got married on June 6, 2019, took to social media to share their joy and express their gratitude.
Dr. Ziphozenkosi, in her Instagram stories, revealed the meanings behind the names they have chosen for their baby boy. The names are Neyam'enkosini, Ulilanga, and Lulibo. These names likely hold significant cultural or personal significance for the couple, reflecting their heritage and beliefs.
Prior to giving birth, Dr. Ziphozenkosi posted a heartfelt message on her Instagram timeline addressed to her unborn baby. Accompanied by snapshots from her maternity shoot and a Bible verse, she expressed her deep love and prayers for her child. Her message conveyed the immense joy and gratitude she felt, acknowledging the baby as a blessing to their family and recognizing the grace of God in their journey.
Dumi Mkokstad, in a touching tribute to his wife, expressed his admiration and love for her on their wedding anniversary. He conveyed his feelings of unworthiness and gratitude for having her in his life, emphasizing how she serves as a constant reminder of God's love for him. Dumi referred to Dr. Ziphozenkosi as his treasure, a gift from the Lord that demonstrates His unwavering love.
The couple's public expressions of love, faith, and gratitude have resonated with their followers and fans, who have flooded their social media accounts with congratulatory messages and well wishes.
The arrival of a child is a joyous occasion, symbolizing the continuation of life and the beginning of a new chapter for the parents. It is a time of celebration and reflection, as families embrace the love and responsibility that comes with raising a child.
The couple's story highlights the importance of family, faith, and the blessings that children bring. The names chosen for their baby boy reflect a connection to their cultural heritage, showcasing the significance of preserving and honoring traditions.
Follow Us on Twitter
Latest Gossip News via Email