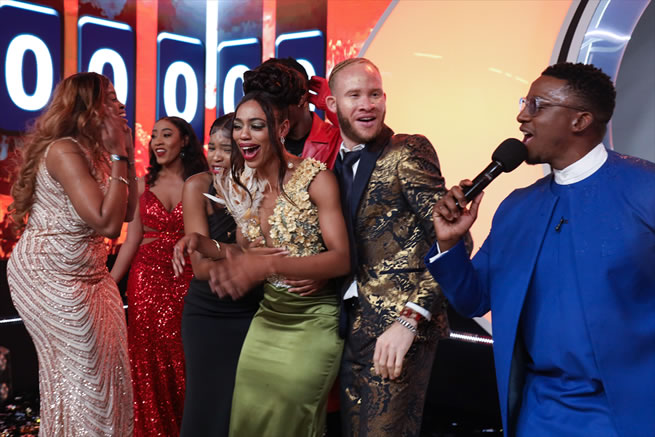 The 25-year-old became an instant millionaire as she walked away with the $100 000 (over R1.7 million) grand prize.
After several intense weeks, Twala and the other five housemates made it to the finale, but she was the one who emerged victorious with Nigeria's Emmanuel Kalu Ananga, known as Kanaga Jnr, taking the runner-up spot.
"It has been one amazing ride,"she said
"I loved every moment in the house, especially after I realised how some people did not like me and I decided to do me and live my life." Khosi believes she was doomed from the get-go and decided to unleash the beast in her.
"In 20 hours of being in the house, Big Brother asked people to vote and they put my name up without even getting to know me. That is when I realised that people didn't like me, and the least I could do was to be myself. I had no idea that living my best life would lead me to win over a million," she says.
"I knew somehow I was going to pay either way," she added. Khosi says at some point, her partner was worried thinking what she was doing was not good for them in terms of votes. "I just didn't want to leave with a fake image of myself that I created in the house, and being myself is what made people love me." Khosi's least favourite moments in the house were when she was the reason behind any fights.
"The fact that I was the reason for Yemi and Miracle fighting did not sit well with me. I knew it wasn't my fault, it was beyond me and more about their egos. But my name being involved was an issue. I also hated being up for eviction every week. But I guess it worked to my advantage because every time I was up, my fan base."‍
Being in the house boosted Khosi's belief in herself. "It made me realise that I am tougher than I thought and more capable than I ever imagined," she says. "I had big dreams but I didn't think I was this capable. Winning affirmed that I got this and that the world is my oyster. I can go crazy and dream bigger. Winning has unleashed the beast in me," she says. With everything, she has done in the house and with her love interested, Khosi regrets nothing. "I was quick to realise my place in the house and how everyone felt about me. I am glad that I didn't deceive myself and think it was something either than a game. It was clear that people were not happy that I got into the house while in a relationship and I got into another relationship. They were asking what is wrong with me. It made everyone question the type of person I am. I knew my place and I was able to do me. I thought If I am going down, I might as well go as myself." Khosi had a couple of favourites in the house and she was always clear about who she liked. "I love love love Marven, he was one of my favourite people ever. I loved Yvonne, she was calm and collected. She has the same sense of humour as me and Marven. Coming out of the house and seeing the amount of support Marven has given me is insane. I got closer to Yaya in her last week. When she left, she supported me because of that bond. I didn't think I would have anyone come out and do that."
Before going into the house, Khosi was involved in community development projects. She was part of a church organization that helped the homeless and she plans to use her money to continue with her good deeds. "I have been saying I really want to focus on good deeds such as the church organization which I have. I want to see what I can do to give back to the community," she says. "The organization focuses on sustainable development. Before I went into the house we assisted people with providing food and services for homeless people and shelters. But I realised that it was pointless because I would leave, and everyone would go back to having nothing. So, now I want to move into sustainable development where I can provide skills and ways for people to make means for themselves," she says. "I know it requires a lot of research, and a big team but that is one of the main things I wish to do with the money. I want to give back. The fact that I made it this far was because of the people, who helped me get here and I want to do the same for others."
Follow Us on Twitter
Latest Gossip News via Email