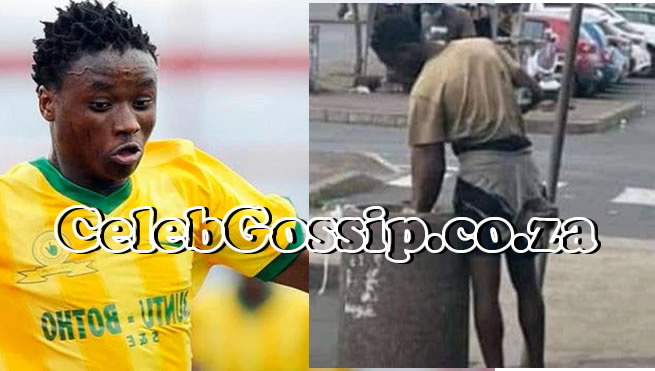 – He had one of the brightest stars as a young footballer.
Former Mamelodi Sundowns midfielder and Ts Galaxy Khayelihle's Shozi's was spotted roaming the streets homeless, not having bathed in months, and going through the dustbins looking for food.
The rising star's life took a turn for the worst in 2022 when he went missing twice from his club. The first time, he was found and given counselling. The second time, after spending weeks looking for him, his family located him and he was admitted to a psychiatric hospital. He received help and his family thought they had dealt with his mental issues. Sundowns committed itself to intervene in his struggles with mental health.
Khayelihle (28) was recently spotted again back in the streets. The family spokesperson Simphiwe Shozi said that it pains the family to see him in that state.
"We have tried our level best to help. We will not give up," he says. "It breaks our hearts to see him in this state. We are still trying to get him help where we can."
Award-winning football manager and Al Ahli FC head coach Pitso Mosimane has shared his sadness saying he had great potential. "Very sad to see this image. His combination with Percy Tau was amazing. We even promoted him to the Senior Team ahead of Percy," he says. "He came through the same development program, like Pitso, Keletso, Promise, etc. Cassius (debut in preseason Zambia July 2019).Special talent!"
Here are some reactions from distraught fans:
Lapolagang Mpha: "I used to call him Tekowith pace, I liked his combination with Percy Tau via Diski Challenge how I wished u could have paired them in our 1st team."
Solly: "We should accept the results of the decisions we take in life. Not oblivious that some are fortunate than others, but most of our outcome is due to our own makings. We must look into the mirror and take ownership/accountability. May God make it easy for him."
Howard Mgwaza: "It's so sad but even more sad to me because I know his late father."
Simza: I remember watching this boy a Kanyamazane stadium Nelspruit, told one of my friends that watch the boy calledKhayelihle Shozi he just told me I only see Teko Modise."
Follow Us on Twitter
Latest Gossip News via Email