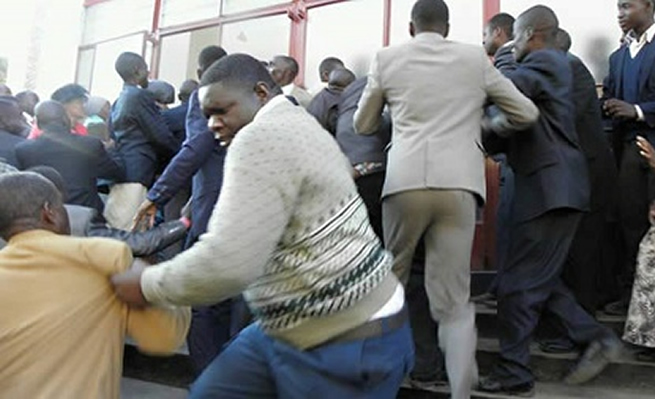 A JOBURG central Seventh Day Adventist Church was robbed at gunpoint on Saturday afternoon.
According to reports on social media, six armed men entered the church as visitors, and when the preacher was at the podium, the men got up, ordered him to lie down, and took all cellphones, wallets and other valuables from the congregation and stomped out.
Johannesburg CBD: Six armed men stormed a church and robbed people. The pastor was at the podium at the time. Wallets, phones & valuables stolen from members of the congregation. pic.twitter.com/cLXx1IOyKX

— Yusuf Abramjee (@Abramjee) November 26, 2022
Gauteng police spokesperson Colonel Noxolo Kweza said that the suspects walked into the church in the CBD at midday and demanded personal items from the congregants.
"A group of armed men walked into the church around midday and demanded personal items from the congregants while pointing firearms at them. No-one was injured. No arrests have been made," said Kweza.
SDA Church deacon Prince Thebe said: "We were just in the middle of the service, and some six guys came in, pointed guns at us, and started asking money for offerings and cellphones.
"When the first guy came in, he went to the front seat, and while sitting there, he kept looking around and moving seats. The other deacon went to him and asked him what he wanted. He said, 'I'm visiting, and I don't know where to sit'. He then suddenly stood up and went out.
"A few minutes later, a group of guys stomped inside the church, from the right and left sides of the doors. One went straight to the preacher in the front, pointed a gun at him, and told him to lie down. The other guys were busy with the congregation, walking pew by pew and collecting cellphones. They then asked for the money for offerings, and we showed them the basket. They took the money and ran off."
Last month, a pastor was killed in Diepsloot when a gang of five armed men stormed a church during an overnight prayer session just before midnight. They opened fire on the group of 50 congregants, killing the pastor and injuring two others.
The suspects robbed the congregants of their personal belongings before fleeing the scene.
Acting provincial commissioner Maj-Gen Tommy Mthombeni condemned the attack and promised to do everything in his power to bring the perpetrators to book, adding that church members should be allowed to do their business peacefully.
Anyone with information can contact police crime stop at 08600 10111 or their nearest police station.
Follow Us on Twitter
Latest Gossip News via Email