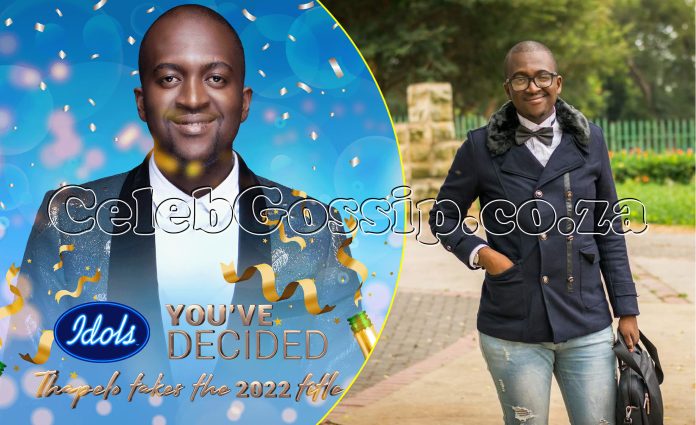 Newly crowned Idols SA champion Thapelo Molomo plans to invest his R1m prize money into property and e-hailing taxi services.
The 29-year-old singer originally from Mokopane in Limpopo was named the winner on Sunday night at the Heartfelt Arena in Pretoria, with Nozi Sibiya from KwaZulu-Natal as runner-up. Molomo, who emerged victorious on Sunday in front of a full house at Tshwane's Heartfelt Arena, is a police service psychologist. He dropped to his knees and prayed on stage after his name was called out.
Thapelo Molomo, the singing cop who is a psychologist in the police service, stole hearts during season 18 of Idols SA and is now R1 million richer. Not only is he now a millionaire, but a whole lot more famous. He, however, has no intention of quitting his day job!
"I might record a single, but I'm not going to resign from my job," says the 29-year-old, who's a police psychologist in Brits, North West.
"Helping others remains my passion. I'll also continue with ministry through gospel performances at spiritual gatherings because ministry will always remain my other passion," he said.
Speaking to Sowetan on Monday morning, Molomo was still in disbelief about his unanimous victory.
"I plan to see a financial adviser who will guide me on what I can do with my prize money. I will also invest in a few businesses in order to grow the money. I don't want to end up broke like most musicians. I want to change the narrative. I will also continue working my office job [as a police pychologist] as I pursue my music career," Molomo said.
During the show, Molomo earned his crown as king of ballads through his renditions of So Amazing by Luther Vandross and End of the Road by Boyz II Men.
"I am over the moon, this win feels very good. I had the best time on stage on Sunday night performing to the crowd that came to support me last night," said Molomo.
"I felt an overwhelming feeling of emotion hence I immediately knelt when ProVerb announced that I was the winner. I had to take a moment and thank God for being with me throughout the journey until I acquired victory.
Molomo admitted that the Idols SA singing competition was beginning to take a toll on his mental health. He said he felt burnt out due to the hectic rehearsals and schedules.
"People don't understand the level of pressure we go through in order to stand another week. We are tasked to learn the lyrics and remember our dance routines… it all got too much to a point where I felt super exhausted," he said.
"So, I had to hold on a little bit more and keep pushing because I know nothing comes easy in life."
Thapelo Molomo who is currently living in Pretoria, is a self-confessed perfectionist, he has spent the past few years honing his musical skills. He joined a gospel group in 2012 as a backing vocalist but is now ready to take the lead.
After a few attempts at making a mark in the music business, Thapelo Molomo relishes being part of Idols South Africa, an experience he describes as the "biggest stage" he has been on.
Up to this point, the Idols South Africa journey has offered him the opportunity to learn more about performing, music and how to handle himself as an artist.
Speaking to the media on Sunday night after being declared the Idols SA Season 18 winner, he thanked God and his fans for the victory. "I'm a very prayerful somebody, it is God first in everything that I do," said Molomo.
He studied at the University of Venda in Thohoyandou, Limpopo, where he completed his honours degree in psychology, then did his internship at the department of employee health and welfare of the SA Police Service in Brits.
"The public doesn't realise the traumatic experiences police members are exposed to," he says. "There are horrific accidents. Violent murders. Mutilated corpses. Even if you're a seasoned police member, those things get to you. If you don't get counselling for this, you'll end up with emotional problems that often spill over into your personal life."
Follow Us on Twitter
Latest Gossip News via Email