Soweto residents in different areas have been up in arms demanding that foreign nationals leave the country, reports Soweto Urban.
This comes after several reports that foreign nationals are allegedly selling fake and substandard goods to their consumers.
These allegations have been slowly surfacing on social media with many people believing their health is at risk.
As an apparent response to these allegations, Soweto residents have been looting foreign nationals' shops in different parts of Soweto, with the apparent ultimate aim of them leaving the country.
PAKISTANI SHOPS BEING LOOTED : MOFOLO NORTH. SOWETO. JHB. GP. EVEN THE FRIDGE IS FAIR GAME. pic.twitter.com/K4yAaepKLd

— REZA (@crimeairnetwork) August 29, 2018
"We can confirm that there has been looting in different parts of Soweto, but the police are aware of the matter and are currently attending to it," said captain Mzwakhe Khoza.
Meanwhile, one person has been shot dead during ongoing violence in White City, Soweto on Wednesday afternoon, police confirmed to News24.
Lieutenant Colonel Lungelo Dlamini said shops owned by foreign nationals were being looted.
"Police are there, [and] trying to deal with the situation," he said.
Dlamini said he could not confirm details around the shooting.
"We don't know who shot who. We are investigating."
Police could also not immediately provide details on how many people were injured in the violence.
One of the first areas in Soweto where the looting allegedly took place was in Jabavu, where residents started looting shops in the early hours of Wednesday morning, taking foreign business owners' groceries and fridges.
In the midst of all the looting, it is reported that one individual died while several others may be injured, but police are still to confirm this allegation.
One WhatsApp message The Citizen has seen is riddled with xenophobia and panic: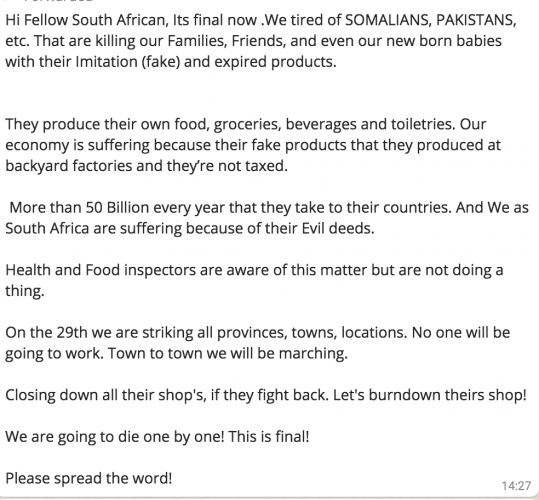 Follow Us on Twitter
Latest Gossip News via Email