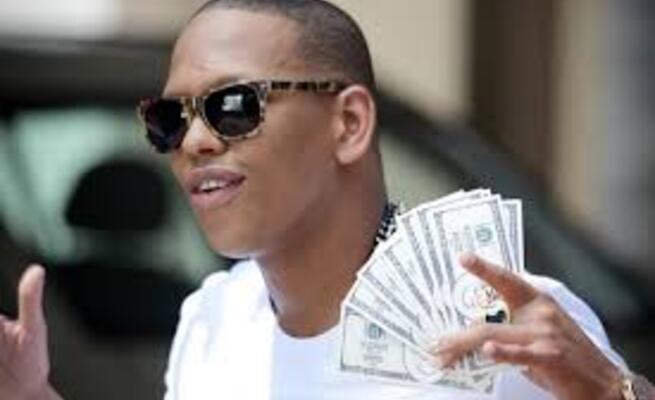 Hip-hop star and influencer Da Les and his record label,Fresh 2 DEF Productions, are facing a legal lawsuit of over R155 000 in unpaid taxes from the South African Revenue (SARS).
The revenue collector filed The court papers at the Johannesburg High Court last month, stating that the rapper, whose real name is Leslie Jonathan Mampe Jr, had failed to settle a R131 000 tax bill incurred for the 2018/2019 tax period. g
According to an affidavit deposed by Prudence Kharivhe an operations manager at SARS'S Alberton campus, Da Les's record label owed SARS R131 822.41 in unpaid Pay As You Earn (Paye) and as a result incurred R5 881.48 in interest and a further R13 179.46 in penalties.
The papers further show that the record label also owes at least R4 246.94 in unpaid UIF payments and was also slapped with additional penalties and interest, leaving the amount to balloon to R5 000.
In total, the papers reveal that Da Les's company owed the taxman a total of R155890.22 for thr 2018/2019 tax period.
Court documents reveal clearly indicate that the rapper who is known for swag and hosting an annual massive all-white party at a mansion in Bryanston, Jozi gave SARS the cols shoulder.
The court papers further show that the rapper was srved with two letters of demand bu the taxman, first in May 2019 reminding him to settle the debt, and the final letter of demand was sent to him on september 16 2019, informing him of the taxman's decision to apprach the court to claim the money owed to it.
In final letter, SARS informed the rapper that his tax bill was now sitting at R138 430.66 and urged him to settle the bill in 10 working days. The rappers failure to settle the bill will see the taxman approachany third party who owed the rapper or his company to settle the tax debt for him.
It is further revealed that an option of a civil judgement against him could be considered, leading to a warrant of execution to be issued to the sheriff of the court to attach and sell his assets.
Despite all these efforts, the revenue collector revealed that its pleas fell on deaf ears, and no payment came through from the rapper or his record label. SARS said: "As you are aware, SARS is creature of statute. As a result, SARS is not in a position to divulge specific information and details on the affairs of taxpayers. SARS is bound by chapter 6
of the Tax Administration Act, 2011, dealing with confidentiality of information, and more specifically section 69 of the act, which provides for the secrecy of taxpayer information."
Da Les's phone was answered by his manager who said his name was Benza, but he refused to comment stating that the matter was between SARS and the rapper.
-Sundayworld
Follow Us on Twitter
Latest Gossip News via Email