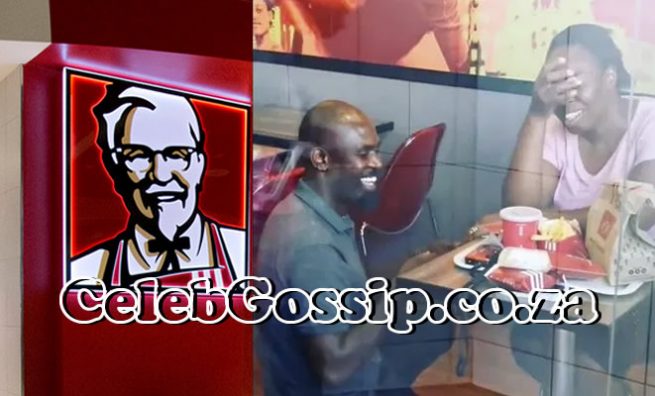 Trending at number one in South Africa on Thursday, the #KFCProposal has stolen the hearts of South Africans.
While having a meal at fast food restaurant chain KFC, a man romantically got down on one knee and proposed to his girlfriend.
A video circulating on Twitter shows the man proposing to his girlfriend, who accepts to be his wife. The couple were having lunch at KFC when the man decided to go on his knee and put a ring on it.
The woman is seemingly shy, probably in disbelief but the man is seeing smilling ear-to-ear.
Tears filled her eyes as she said 'yes', with customers in the restaurant smiling and cheering them on. With a smile on his face and love in his eyes, he gently put the ring on her finger.
Since the video went viral, KFC tweeted the video asking Mzansi to help find the couple.
"Mzansi please help us find this beautiful couple, re batla ho ba blesser 😊 DM us any leads, there might be a Finger Lickin' Good surprise in it for you too. Batho ba Vaal re thuseng! We love love 😍❤️ #KFCProposal," they tweeted.
Cricket South Africa even jumped on board and asked that all get involved and help locate the two love birds.
Social media was flooded with comments of people praising the man for his unconventional yet adorable method of proposing to the love of his life.
If this doesn't make your day, we don't know what will.
Y'all shaming a couple for staying in their lane? Stop imposing your standards on other people. #KFCProposal

— Memza (@_Memza_) November 7, 2019
#KFCProposal The guy that proposed is the sweetest 😍yol can laugh and say why at kfc and not somewhere fancy 🤦🏽‍♀️love is easy and simple stop instilling your standards on other people when they are happy pic.twitter.com/RFFG3ZSmut

— Afrikayla (@Afri_kayla) November 7, 2019
Follow Us on Twitter
Latest Gossip News via Email